"Darn the wheel of the world! Why must it continually turn over? Where is the reverse gear?"
—Jack London, American novelist, born January 12, 1876
---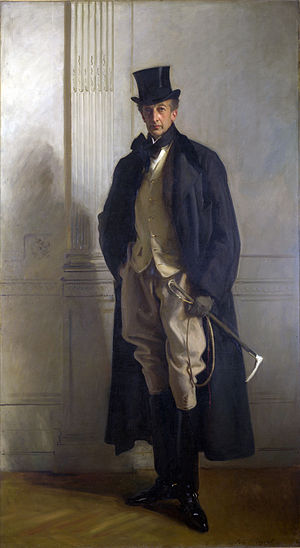 The Apollo Grill provided Don't Eat Lunch Alone with a commodious and friendly home for its entire life in Easthampton. InCommN is currently taking a break from the lunch networking racket; but we wish the Douglasses the best of luck with their new venture, and look forward to visiting their new restaurant, Galaxy. Easthampton continues to grow and get better.
Jack London's "To Build A Fire" puts this frigid winter we're enduring into perspective. "The trouble with him was that he was without imagination. He was quick and alert in the things of life, but only in the things and not in the significances." I've never really read London; going to have to give him a try.
John Singer Sargent was one of the greatest portrait painters of all time. He the invaluable talent of endowing his subject with superhuman glamor. Nobody can be that beautiful, woman or man, but the subjects of his portraits are, at least on the evidence of the very expensive canvases he produced for them. Sargent, as his last word suggests, was at best cynical about his trade.
---
Today and Tomorrow in #westernma
---
Reading
"Galaxy will be open daily for drinks 4 p.m. to midnight. Food will be served 5 p.m. to 10 p.m. Sunday-Wednesday and 5 p.m. to 11 p.m. Thursday-Saturday.
"The impetus for opening Galaxy was spurred on by Easthampton's revitalization over the past several years.
"'I think Easthampton needs another adult place to go,' Douglass said. 'Casey has seen the city grow since moving from Boston in 1995 to raise his family. His wife, Laura, and he decided to move to Easthampton over Northampton or Amherst because of the potential of this city. He feels Easthampton is reaching that potential. As the city grows, so does its needs.'
"Douglass added that she enjoys being at the Main Street location.
"'We love that we can look out the windows and see the world go by–and stop in,' she said. 'We like that people will be able to see us. I think folks like to see into a bar before they go in. The front is two large windows with sheer white drapery. It almost glows. That might be the proud mama talking, but it does seem dreamy to me at night.'"
Apollo Grill owners set to blast off into Galaxy, a new eatery in Easthampton/a>
---
The Last Word
"A portrait is a painting with something wrong with the mouth."
—John Singer Sargent, American artist, born January 12, 1856