"I decided that if the police couldn't catch the gangsters, I'd create a fellow who could."
—Chester Gould, American cartoonist, born November 20, 1900
---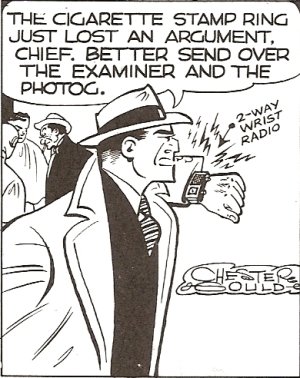 Chester Gould's "fellow who could" was Dick Tracy, the square-jawed tough-guy detective familiar to generations of funny paper readers. Tracy's wrist-watch radio prefigured the miniaturized communications gear we all know, and the wearable tech that's coming soon to a body near you. The other characters in the strip had cool names, too: Tess Trueheart, Tracy's girlfriend; villains Flattop Jones, Mumbles, and Big Boy; and the Plenty family: B.O., "Gravel Gertie," and the bee-you-teeful Sparkle.
---
The Smithsonian is making available scan data of objects in its collection for download. It will support 3D printing in some cases. How cool is that?
---
We need to be thinking about and planning for a future where there may no longer be a requirement that people work for a living. In a post-scarcity world, work will continue to be done for all kinds of good reasons, including getting rich, but it will not be done because there is no other way to get food, shelter, clothing, medical care, education, etc. I've linked before to the late Iain M Banks's thoughtful Notes on the Culture, which describe in some detail his vision of a post-scarcity economy and society. This piece views the prospect through the lens of the future explored in the various iterations of Star Trek.
---
Today and tomorrow in #westernma
---
Reading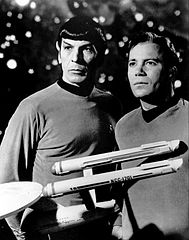 "Let's go full-on fantastical and look at sci-fi. There IS actually a model out there that deals fairly realistically with a post scarcity economy. Not only that, it actually takes into account the difficulties of migrating from a capitalist society to a post scarcity society incrementally. It's not just a theory in a vacuum.
"It's called Star Trek."
The Economics of Star Trek: The Proto-Post Scarcity Economy
---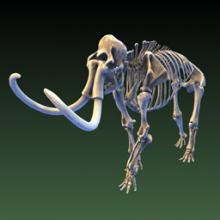 "Smithsonian X 3D launches a set of use cases which apply various 3D capture methods to iconic collection objects, as well as scientific missions. These projects indicate that this new technology has the potential not only to support the Smithsonian mission, but to transform museum core functions. Researchers working in the field may not come back with specimens, but with 3D data documenting a site or a find. Curators and educators can use 3D data as the scaffolding to tell stories or send students on a quest of discovery. Conservators can benchmark today's condition state of a collection item against a past state – a deviation analysis of 3D data will tell them exactly what changes have occurred. All of these uses cases are accessible through the Beta Smithsonian X 3D Explorer, as well as videos documenting the project. For many of the 3D models, raw data can be downloaded to support further inquiry and 3D printing."
Smithsonian X 3D
---
The Last Word
"Smooth shapes are very rare in the wild but extremely important in the ivory tower and the factory."
—Benoit Mandelbrot, French mathematician, born November 20, 1924