"The news is the one thing the networks can point to with pride. Everything else they do is crap, and they know it."
—Fred W. Friendly, American producer, born October 30, 1915
---
And Then There Were None
Love this quote from Fred Friendly; kind of says it all about American media. I imagine the shameless hucksters and ideologues who are now running TV news continue "to point with pride" at their industry. Or worse, they may not give a shit at all.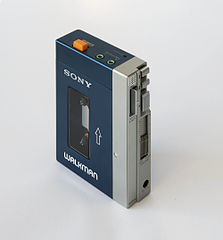 A Sony Walkman user is involved in something intensely private right in public. The use case is the private consumption of recorded sound in public. The smartphone has a similar function: we can be in public but be completely immersed in a wide range of experience that is not present, although it may be. The private and public realms intertwine, and they are both promoted (or reduced?) to information.
Remember boomboxes? I've often cheered that anyone with a connection to the Internet owns a printing press and a TV or radio station. In a digital world that's more or less a good thing, although it's easy to find Internet "newspapers" and "TV stations" that one devoutly wishes weren't around. In the analog world of the 1980s, there was the boombox, a weapon with which mostly young, mostly male people "shared" the music they favored with the rest of society. It was pretty awful. To be continued…
Robert Caro, in my opinion, is one of the greatest biographers of all time. He has been writing a biography of President Lyndon Johnson (which runs to five large volumes with a fifth on the way) since he finished his monumental biography of Robert Moses in 1974. Moses, as Caro says in today's last word, was a fantastically powerful man, in many ways the creator of modern New York. He was not an elected official accountable to the public, instead functioning as a sort of technocratic philosopher-king, making decisions about roads and bridges, parks and beaches, that determined the physical and socio-economic character of New York.
---
Today and tomorrow in #westernma
---
Reading
Woulda, Shoulda, Coulda vs the D4 Dopamine Receptor
"…Pathological gambling is increasingly seen as a behavioural addiction similar to drug or alcohol addiction, but we know comparatively little about how to treat problem gambling," says Cocker. 'Our study is the first to show that by blocking these receptors we might be able to reduce the rewarding aspects of near-misses that appear to be important in gambling.'"
Scientists Reduce Behaviors Associated With Problem Gambling in Rats
---
The Last Word
"Robert Moses wasn't elected to anything. We're taught that in a democracy power comes from being elected. He had more power than anyone, and he held it for 48 years."
—Robert Caro, American writer, born October 30, 1935