"We are asleep with compasses in our hands."
W. S. Merwin, American poet, born September 30, 1927
---
Vanished Civilizations
There's still time to sign up for Jim Mumm's Elevating Your Sales Technique workshop tonight in Northampton. Jim is a successful entrepreneur and an excellent speaker. His company Executive Training Solutions, LLC provides Sandler Training in the Pioneer Valley. 6:00–8:00PM. Refreshments provided.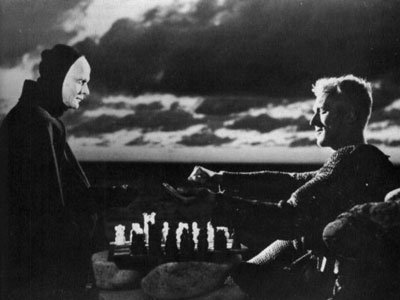 A Millenial reported watching Ingmar Bergman's "Wild Strawberries" in his Psychology Class. We didn't find out what he thought about it: he's sixteen, and will not communicate with adults about that stuff. His grandmother, a Baby Boomer, thought it would be fun to show the Millenial and his Gen X father a short, satirical film called "De Düva" (The Dove, 1968). It's a very funny pastiche of Bergman: faux-Swedish dialogue (Madeleine Kahn, in her film debut, offers a cigar to her cousin: "Phalliken symbolsk?"), a game of badminton with Death (homage to Bergman's "The Seventh Seal"), and a mixture of nostalgia, natural beauty, and existential dread. "The Dove" was once very popular at college film societies and art houses (an art house is a movie theater specializing in showing serious independent and foreign films, and revivals. They still exist, I think).
The millenial and the Gen X'er, sophisticated participants in their own culture(s), appeared to find this artifact from a vanished civilization almost incomprehensible. Question is, is there some sort of unusual discontinuity between 1968 and 2013 or is this just the normal play of changing style and the tastes of different generations? Maybe "De Düva" demands too much specialized information about the culture that it comes from. The Millenial was raised by his grandparents on the Marx Brothers, and I think he still thinks they're funny. (He better!)
(To Be Continued)
Events
---
Reading
Stem Cell Reprogramming "Brake-Through"
This is potentially huge. It was discovered in 2006 that it's possible to induce adult cells to revert back to their original embyonic state, so that they can give rise to any type of cell in the body. But it has been slow and inefficient until now. The new technique, in effect, allows researcher to "release the brake" on the process that exists in nature, and increase its efficiency.
"…Embryonic stem cells are those that have not undergone any "specialization," so they can give rise to any type of cell in the body. This is what makes them so valuable: they can be used, among other things, to repair damaged tissue, treat autoimmune disease and even grow transplant organs.
"Using stem cells taken from embryos is problematic because of availability and ethical concerns, but the hopes for their use were renewed in 2006 when a team led by Shinya Yamanaka of Kyoto University discovered that it is possible to "reprogram" adult cells…."
Stem Cell Reprogramming Made Easier
---
The Last Word
"Truth is not exciting enough to those who depend on the characters and lives of their neighbors for all their amusement."
—George Bancroft, American historian, born October 3, 1800