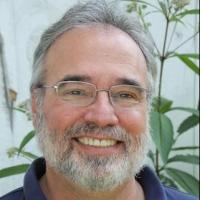 Daniel Lieberman worked as a manager and software developer in his family's business, Lieberman's Gallery, LLP, a wholesale distributor of art prints and posters. The family sold the business in 2008 (the link has some company history).
With partners Rick Feldman. Rick Plaut, and Rich Roth, he runs InCommN, LLC.
Daniel edits the weekly InCommN Newsletter, and writes the InCommN Almanac.
Daniel volunteers as a mentor and facilitator with Valley Venture Mentors, a non-profit group in Springfield, Massachusetts which bring startups and mentors together to help businesses get off to a good start and build the regional economy. He has facilitated for five startups in the program and mentored many more. He's currently very excited to be working with Voncierge, the virtual concierge service for brides-to-be.
Daniel grew up in Westfield, NJ. He lived in New York City, mostly in Brooklyn ("Only the Dead Know Brooklyn"), before moving to Western Massachusetts in 1991. He lives with his partner, Kathy Puckett (AKA the Crazy Orchid Lady) in Shelburne, Massachusetts. He serves as the Wired West Delegate from the town of Shelburne, and is on the Board of the Greater Shelburne Falls Area Business Association, where he also chairs the Communications/Marketing Committee.
Email: daniell@incommn.com
Phone: 413 489 1818
LinkedIn: http://www.linkedin.com/in/danieljlieberman/
Twitter: https://twitter.com/damfino11
Facebook: https://www.facebook.com/danieljlieberman
Google+: https://plus.google.com/u/0/105376074449884215888/posts